Hotel Plan List
Search for a plan by selecting criteria
A total of 1 plan(s) were found
【The main chosen for the main choice Jizaijyosenkaiseki Premium Kaiseki Meal You can Select flexibly■Meals in Room】Customize it to your liking! From abalone, grilled egg steak, beef steak!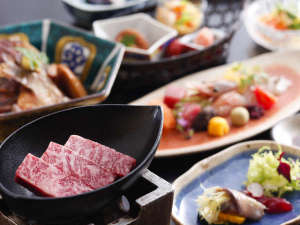 ~ "Freestanding" Kaiseki course ~ course to choose the main item. Image when choosing Wagyu beef steak
~Yoshidaya Sannoukaku (Ryokan), Main Building room meals~

■■Early Booking Deals! Even with a private bath free benefit at the same price! ■■
Main...
Meals

Breakfast & dinner included
Check In

14:00~
Check Out

~11:00