Hotel Plan List
Search for a plan by selecting criteria
A total of 1 plan(s) were found
"Autumn / Winter popular No. 1 place" Fish crab shape Boiled & cow shabu-shabu! "Evolutionary new Kani gourmet Kaiseki cuisine" with room meal "!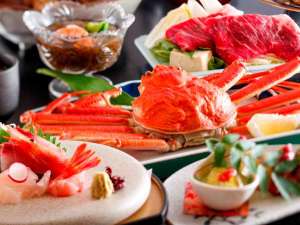 ~ New "Kaito Gourmet" Kaiten Cuisine - Lovely Crab Shape Boiled and Beef Shabu Shabu etc Autumn / Winter is the most popular course in the hotel every year
"Kanu Gourmet Kaiseki Cooking" which will be the most popular in the hotel every year from autumn to winter has evolved and it is "New Kani Gourmet Kai...
Meals

Breakfast & dinner included
Check In

14:00~
Check Out

~11:00